The death of computer entrepreneur John McAfee in a Spanish prison, reported as suicide by local media, enraged American conspiracy theorists when they picked up 9-month-old tweets saying he feared for his life.
McAfee, a British American wanted for tax evasion in the United States, has long been a controversial figure: he is credited with creating the billion dollar antivirus software industry, accused of manipulating the cryptocurrency markets, and wanted by police investigating a murder in Belize .
In Spain, the Catalan Justice Ministry said prison doctors did not resuscitate McAfee and that everything points to suicide, the BBC reports, based on an earlier report in the Spanish newspaper El Pais. A Spanish judge had previously approved a US extradition request so that he could be charged with tax evasion.
The Catalan statement did nothing to quell speculation on the American internet, given McAfee's tweets fearful that he would suffer the same fate as Jeffrey Epstein, the convicted pedophile who died of suicide in a New York prison in 2019.
McAfee's tweet on October 15, 2020 while in a Barcelona prison read: "I'm happy in here. I have friends. The food is good. All is well. You know that if I hang myself, a la Epstein, it won't be my fault. "
I am satisfied here. I have friends.
The food is good. All is well.
Know if I hang myself like Epstein, it's not my fault.
– John McAfee (@officialmcafee) October 15, 2020
Epstein's death has been the focus of wild speculation by QAnon conspirators who claim He was murdered to protect his powerful friends and allies. QAnon supporters believe America is ruled by an elite group of Satan's worshiping pedophiles.
Another McAfee tweet dated November 30, 2019 read: "I get subtle messages from US officials who end up saying, 'We're coming for you McAfee! We will kill you '. I got a tattoo today just in case. If I killed myself, I didn't. I was beaten up. Check out my right arm. "
About an hour after his death was announced, McAfee officials said Instagram posted a picture of a bold letter "Q"
Twitter user @_legrek shared a collage of McAfee's social media posts and shared the hashtag "#johnmcafeedidntkillhimself" in a second tweet.
McAfee was arrested in Spain on October 6, 2020 on allegations of tax evasion. He was found dead shortly after a Spanish Supreme Court approved his extradition to the United States. He could have appealed the extradition decision. The final decision would have required the approval of the Spanish cabinet.
Prosecutors said McAfee evaded taxes on undisclosed income from 2014 to 2018. The income allegedly came from lectures, the promotion of cryptocurrencies, while he advised and sold the rights to his life story. One indictment alleged that he hid land, vehicles, a yacht and other assets by registering them in other people's names. If convicted, he faces up to 30 years imprisonment.
In an October 2020 tweet, antivirus software creator John McAfee wrote, "You know it's not my fault if I hang myself, a la Epstein. In this photo, McAfee is speaking to journalists at the China Internet Security Conference in Beijing on August 16, 2016.
Fred Dufour / AFP / Getty
In a virtual court hearing in June, McAfee said the charges against him were politically motivated. He believed he would spend the rest of his life in prison if the Spanish authorities extradited him to the United States.
In January 2019, McAfee posted a video claiming he evaded U.S. judicial authorities by living on a boat in international waters.
"I haven't paid taxes for eight years. I have not submitted any statements. Every year I tell the IRS, 'I am not filing a statement, I have no intention of doing this, come and find me,' "he said in a Twitter Video.
In a tweet on January 3, 2019, he wrote: "I haven't filed a tax return for 8 years. Why? 1: Taxation is illegal. 2: I've already paid tens of millions and received Jack S *** in the form of services. 3. I'm done making money. I live on McAfee Inc. money. My net income is negative. But I am a primary target for the IRS. Here I am."
In March, New York South District Attorneys charged McAfee with conspiracy to commit fraud and money laundering.
The charges alleged that McAfee and his bodyguard Jimmy Gale Watson Jr. bought cryptocurrency assets before promoting them to McAfee's over millions of Twitter followers. The couple reportedly sold the assets after McAfee's tweets rose in value.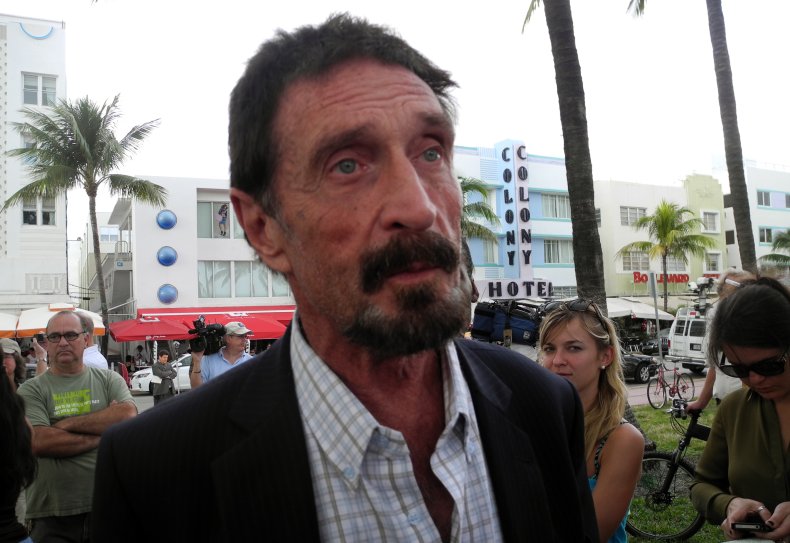 John McAfee, shown speaking to reporters in 2012 after being deported from Guatemala to the United States, likely died of suicide on Wednesday. His death was the subject of conspiracy theories mirroring those that circled Jeffrey Epstein following the account of his death.
PAULA BUSTAMANTE / AFP / Getty
The charges further alleged that cryptocurrency startups paid the duo over $ 11 million to promote their assets on Twitter. These payments were never communicated to McAfee Twitter followers or buyers of the cryptocurrency, the US Department of Justice said.
In November 2012, McAfee went into hiding after police in the Central American country of Belize sought him out as a "person of interest" in the murder of the American Gregory Faull. Faull and McAfee were both living on the coastal island of Ambergris Caye when Faull was found dead in a pool of blood.
McAfee denied killing Faull. Belize Prime Minister Dean Barrow called McAfee "paranoid" and publicly urged him to cooperate with the police.
"I don't mean to be rude, but he seems extremely paranoid, I would go as far as to say nonsense," said Barrow.
The Belizean police arrested McAfee in early 2012 for alleged possession of weapons and drugs. The police later released him without charge.
Newsweek contacted the Justice Department for comment.
Update (June 23rd, 2021, 8:50 pm): This article has been updated to include additional information on McAfee's past with cryptocurrency and the Belize incident.