by Suzanne Daub
If it is true that you can judge a person by their shoes, then it is shoes from Respoke that I want to use to reveal my character! Stylish in a playful and sophisticated way, colorful and full of life, these handmade shoes are wearable art. And this season, designer Michael Tonello brought them to Nantucket.
Respoke started with espadrilles, then customers started snapping up its designer wedges, mules, and mules. With sneakers now added to the range, you can find Respoke shoes for people of all ages and all fashion levels.
Michael Tonello describes his success as a shoe designer as "a little accident".
I sat down with Michael recently to hear his story, which begins with the end of his hilarious bestseller, Bringing Home the Birkin (it's perfect summer read). The book "is about having a closet full of Hermes scarves. I lived in Barcelona and all Spaniards buy one or two or three espadrilles in the spring … they're cool and comfortable … it's a two hundred year tradition. I wanted to be like a local, so I did the same. "But the espadrilles, he explains, have never really changed: they came in the same styles, the same colors, the same fabrics.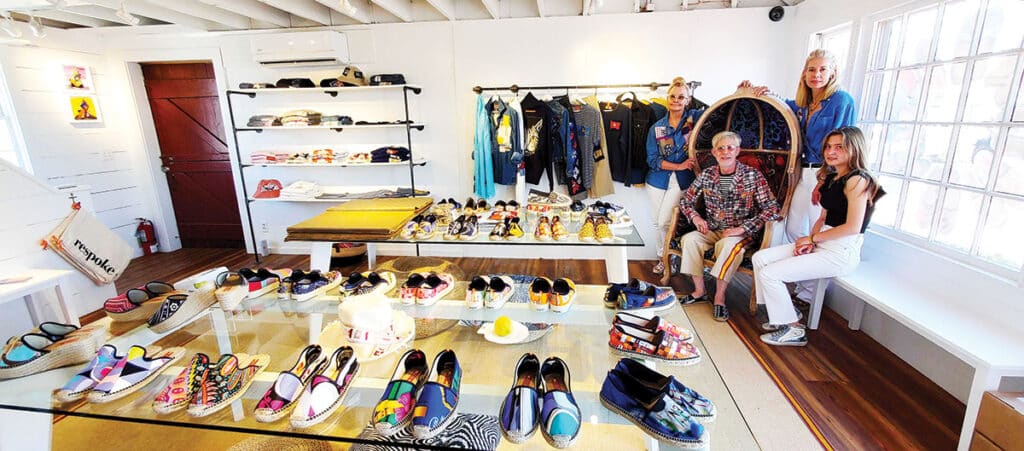 "When I realized I had all these scarves that I wasn't wearing, I thought it would be really cool if I could get someone to turn a scarf into a pair of espadrilles. I've sent a lot of emails. "Finally, a traditional, family-run workshop said it was" an interesting idea … I went to them in La Rioja with a $ 400 Hermes scarf, met them and the woman said, ' The problem is: if we make espadrilles with a scarf? 'Your toenails will cut the silk.' "Tonello left the scarf with her -" she thought I was crazy "- and months later she emailed him to let him know she was sending a package. "I thought she would bring my scarf back … the next day came shoes … They were the most beautiful espadrilles." The shoes arrived with a note explaining that the workshop had developed a process that made it possible to use silk scarves making durable shoes.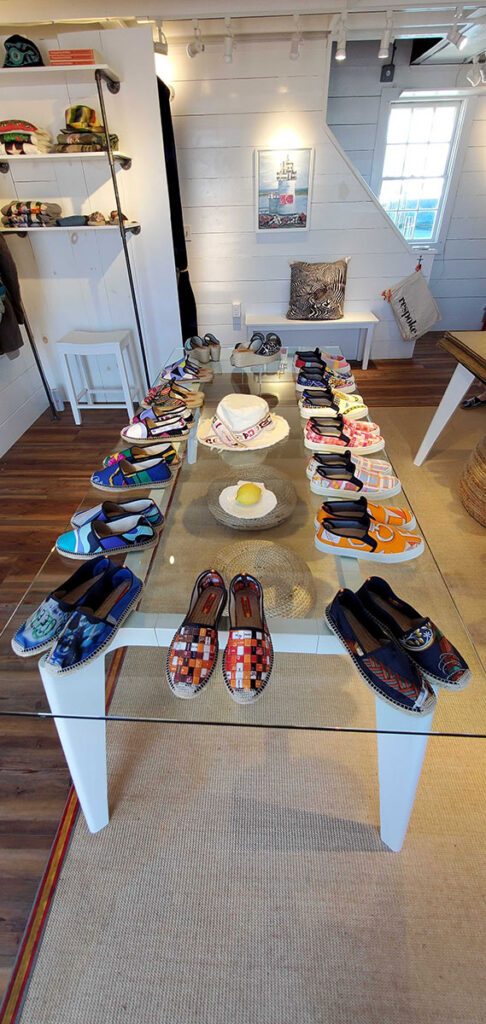 He posted a photo of the handmade espadrilles on his Facebook page, and many of his friends respond with inquiries. Tonello sent more scarves to the La Rioja workshop and "within a few weeks 25 pairs were gone, but I still didn't think it was a store." A month or two later Michael traveled to New York City and met Fern Mallis at the Polo Bar. "I gave her a pair of espadrilles at dinner, and when Ralph Lauren came to our table, Fern introduced me to me and showed him the espadrilles. He said 'they are BRILLIANT' and took me to another table to tell them about my espadrilles… "At this other table were creative directors and buyers from Bergdorf Goodman and Neiman Marcus. They all wanted to wear the unique espadrilles. "We made them, delivered them by hand, and that was the beginning of Respoke."
From inspiration to business and from wholesale to opening their own stores, Tonello and his co-workers Chris and Adrianna hardly have a moment. They travel to Paris and Florence to buy new scarves and look for vintage scarves in auction houses. "We always find something new and different. That way it stays exciting and fun. "Respoke shoes are still completely handcrafted from vintage designer scarves in the 200-year-old workshop in northern Spain, although Tonello's designs today include scarves from Pucci, Gucci, Chanel and Alexander McQueen in addition to Hermes. "The whole [process] is magical. "
Tonello had vacationed in Provincetown, MA for years and opened his first store there three years ago. "We only sold espadrilles and we blew it out of the park!" Last year he signed a lease for a shop here on Straight Wharf, but pandemic restrictions made it impossible to continue. They provided the space for the Nantucket Artists Association for the 2020 season to open a satellite gallery. This June, Respoke opened its doors on Nantucket.
Nantucket is nothing new to Michael Tonello: he grew up on Cape Cod and comes to our island with his parents every summer. He is confident that Respoke shoes are a perfect match for the Nantucket style. "There's a side of Nantucket that loves something unique, opulent, special … but it has to be permanent: people go to the beach, they sail … it's an old Cape Cod mentality … it checks all the boxes," he explained . Respoke shoes "are durable, super comfortable, opulent, but not so classy."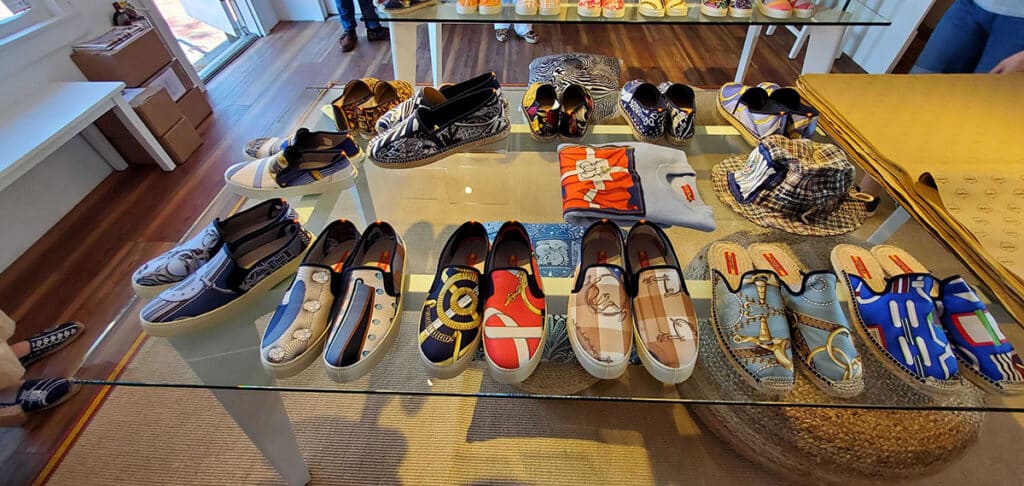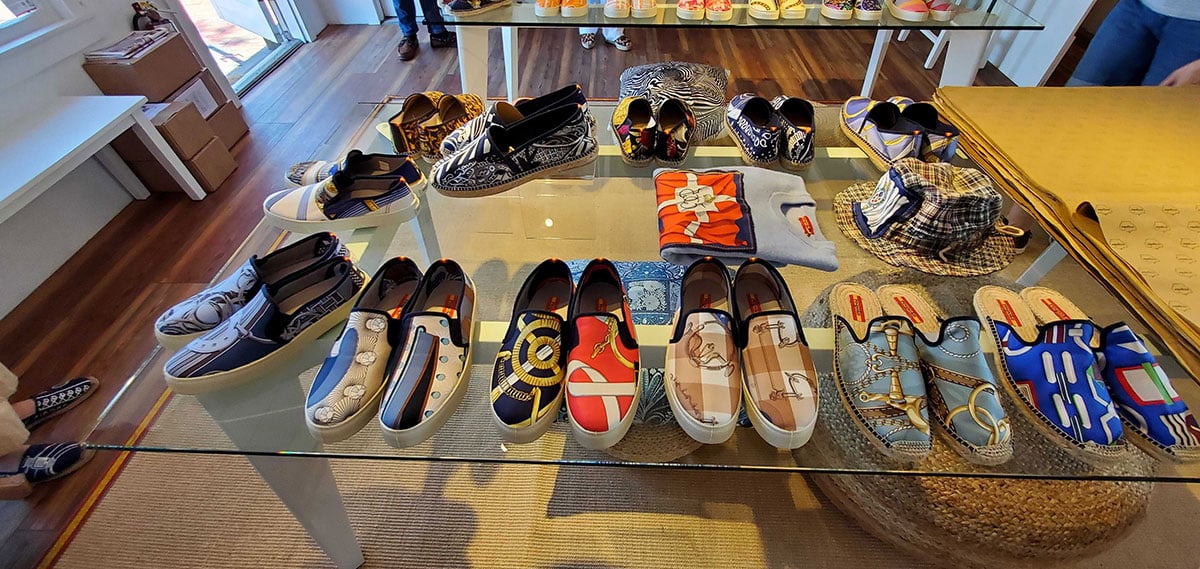 Respoke has shoes for all sizes: men, women and children. Tonello says his team loves to be creative and take on new projects. He describes their brand new sneaker designs as "spectacular … they contain no plastic: only rubber with a silk upper material and they are lined with French terry so that they can be worn barefoot." Scarves, linen bucket hats… everything decorated with silk. "And on the horizon they are developing more silk shoes (high-top sneakers and some new women's designs) and want to add new categories.
"I am one of those people who have the feeling that if something was once beautiful, it is still beautiful."
Respoke is open daily at 41 Straight Wharf and online at respake.com