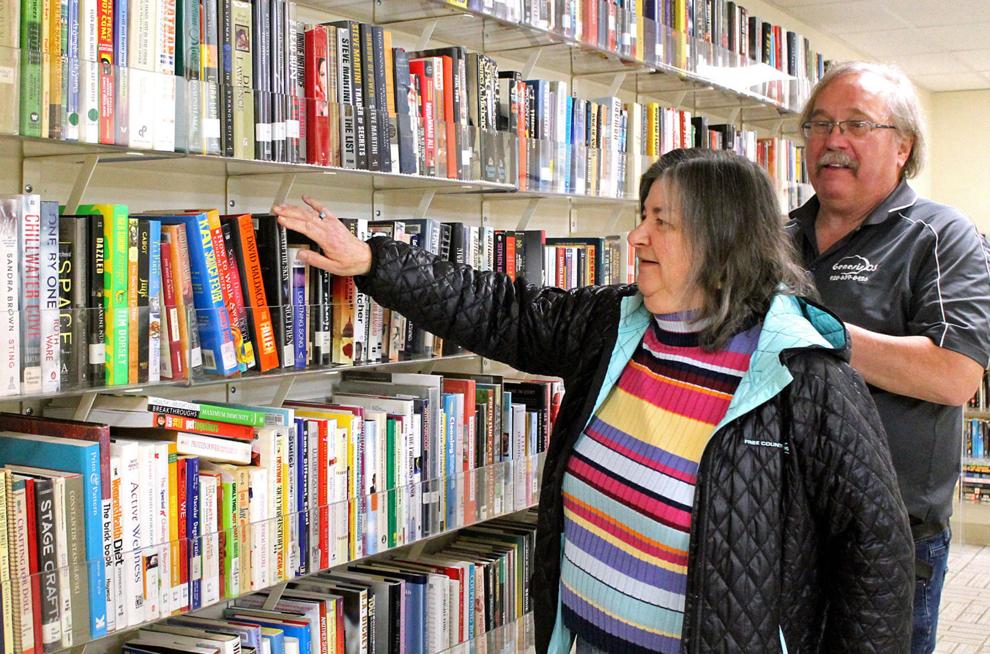 From left, Dodge County Center for the Arts board members Chris Frinak and Kraig Kasten are browsing the recently installed shelves of used books on the lower level of the center on Wednesday. The organization, which previously held an annual used book sale, will now sell books year-round during DCCA opening hours at 130 W. Maple Ave., Beaver Dam.
KELLY SIMON / Daily Citizen


Before this sale takes place, the community will be asked to donate artwork that they no longer use so that they can be included in the sale. DCCA invites anyone who wants to part with their art to drop them off at the following Beaver Dam locations within the next week: DCCA on Monday from 12pm to 3pm or Tuesday from 4pm to 7pm or during Genesis Computers business hours 1659 N. Spring St., Ooga Brewing, 301 S. Spring St. or Beaver Dam Chamber of Commerce, 127 S. Spring St.
Support local journalism
Your membership enables our reporting.
Kasten said gently used art donations can be anything from paintings, drawings, sculptures, crafts, and more.
"Why leave it sitting around collecting dust when you no longer enjoy it?" he said. "Someone else may love what you have."
According to Frinak, people's tastes are changing and this sale helps clear the clutter and gives customers a chance to freshen up their space with beautiful decor at a fraction of the cost of buying new products.
In line with "reduce, reuse and recycle" the center is expanding its traditional fundraising campaign for the sale of used books. Kasten said that instead of only having a sale one weekend a year, the center will now allow people to buy books when the facility is open. Volunteer Chuck Vogel installed shelves on the lower level of the building to house the extensive book collection for easy access.