This messed up job market is finally producing rising wages. But companies can pass them on at higher prices: the beginning of an inflationary spiral.
This is just insane: 15.4 million people are still eligible for unemployment benefits under all programs, with many receiving the additional $ 300 per week in federal allowances, according to the Department of Labor. And 9.3 million people are still "unemployed" according to the Bureau of Labor Statistics.
Nevertheless, the number of job vacancies rose into the stratosphere as companies complain of "labor shortages" even though there is no shortage of people who could work.
The number of vacancies rose by 1 million from the highest ever record to a new highest record ever, to 9.29 million vacancies in April, seasonally adjusted and to 10.0 million non-seasonally adjusted, according to the JOLTS report from the Bureau of Labor Statistics today. Something is really messed up:
It does so while the number of jobs at employers of all kinds – corporations, governments and nonprofits – is still down 7.6 million from February 2020 (green line) to 144.9 million in May; and while households indicated that the number of employed persons, including the self-employed, was 151.6 million still down 7.1 million from February 2020 (Red line):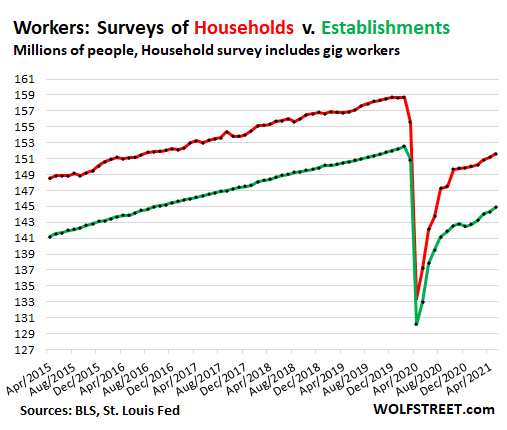 In the leisure and hospitality industry – around three quarters of the jobs are in restaurants and bars – the number of vacancies rose by almost 400,000 positions, from an all-time high to a new record of 1.59 million in April (seasonally adjusted) and rose by 55% from April 2019 :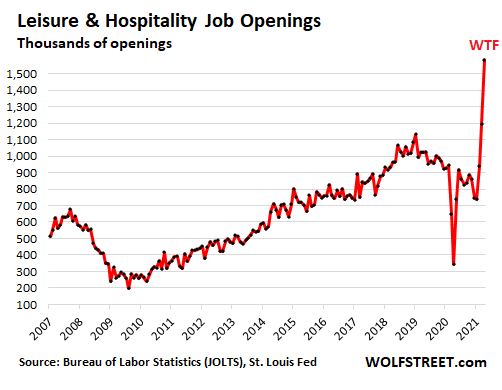 But even though there were 1.59 vacancies in the leisure and hospitality industry that the companies were eager to fill, the number of employees in the industry still fell by 2.54 million compared to April 2019: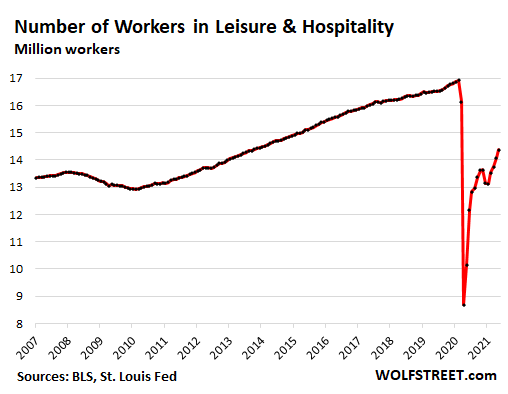 In the production, the number of vacancies rose to 851,000 for the second month in a row, an impressive 83% or 388,000 positions compared to April 2019.
Manufacturers have raised wages, and some have paid signing premiums, and they complain that they can't fulfill orders because they struggle to hire enough people to ramp up production to meet trillions of dollars in demand in fiscal and monetary policy incentives.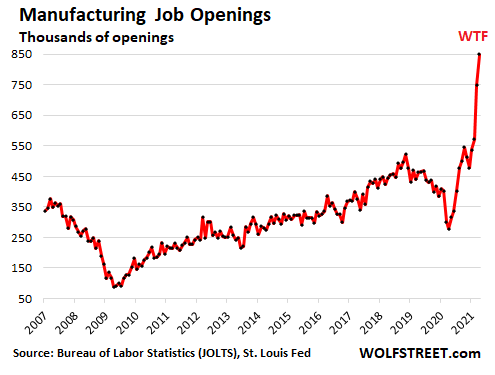 This comes after two decades of lawsuits that American companies have relocated manufacturing jobs to low-cost countries.
The number of people currently working in manufacturing – including the new positions that manufacturers have actually been able to fill – has remained roughly unchanged for four months with around 12.3 million employees, according to the BLS job report last Friday. Compared to the Good Times last month, February 2020, that was a decrease of 509,000 employees. And yet there are 851,000 vacancies that manufacturers want to fill: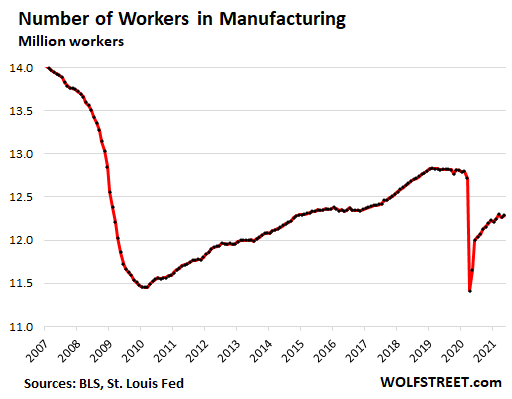 In art, entertainment and recreation In the industry, job vacancies rose historically to 248,000 vacancies for the third month in a row, more than doubling since April 2019: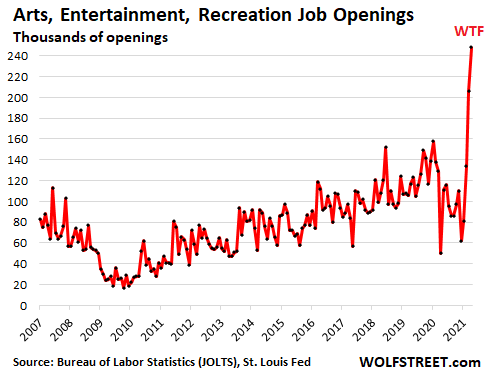 Under constructionTheir job vacancies rose by 23,000 to the second-highest level of all time, below just April 2019: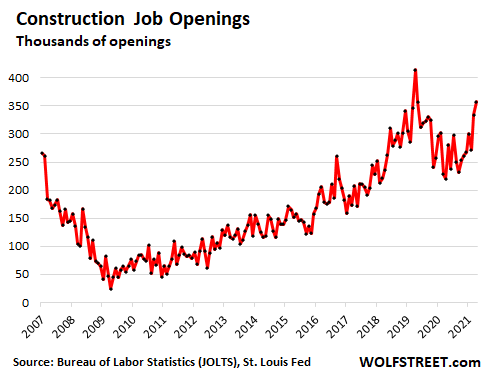 But the number of construction workers hasn't moved much through May this year (and down 20,000 jobs in May from April) and is still 225,000 lower than it was in February 2020: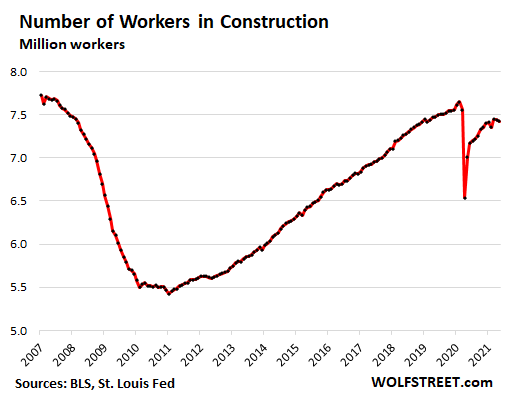 In the areas of transportation, warehousing and utilities Job vacancies fell by 18,000 to 411,000 positions in April compared to the record increase in March, an increase of 17% compared to April 2019: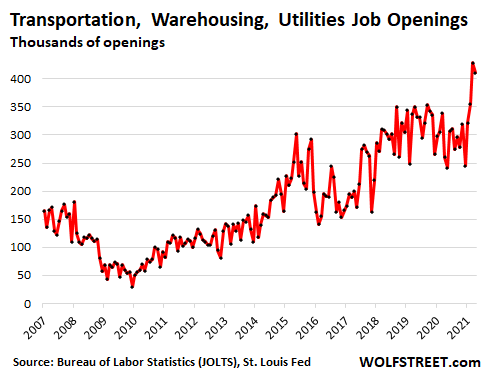 In wholesale Sector, job vacancies rose 79,000 in April to a record 335,000 jobs, up 21% from April 2019: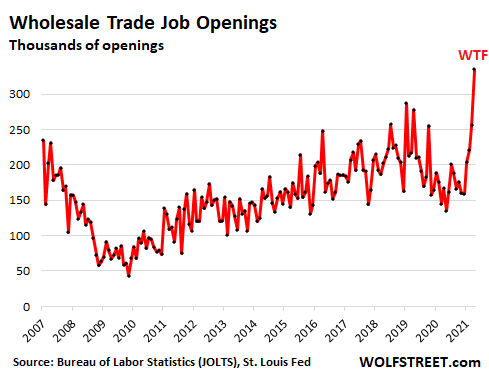 At retail, job vacancies rose by 208,000 to almost 1 million jobs, an increase of 27% compared to April 2019. This sector includes the currently hot car dealers, grocery stores, hardware stores and the like, but also the dying mall stores:
In professional and business services, job vacancies rose to a record 1.52 million in April, surpassing the previous record in December 2020 and up about 25% over the multi-year average.
In education and healthcare, job vacancies rose to 1.44 million, the second highest ever after the record in February, and grew 4.3% from April 2019.
In the information area, The number of vacancies rose to 116,000, in the mid-range of the multi-year and less than in April 2019. The industry cut fewer jobs in 2020 because it was able to switch to working from home.
Jobs in finance and insurance jumped back to the upper end of the multi-year range, to 315,000 openings in April. By moving to home office, this sector has largely retained employment, and job vacancies have so far not shown any unusual trends – unlike during the financial crisis up to December 2009, when they almost collapsed to zero.
In mining and logging, especially oil and gas drilling, the job vacancies fell to 25,000 in April, roughly in the middle of the broad multi-year range.
Small businesses have a big problem with recruiting.
A record high of 48% of small business owners reported vacancies, according to the NFIB Small Business Optimism Index today. "The labor shortage is holding back the growth of small businesses across the country. If small business owners could hire more staff to take care of customers, sales would be higher and approach pre-COVID levels, "the NIFB said in the statement.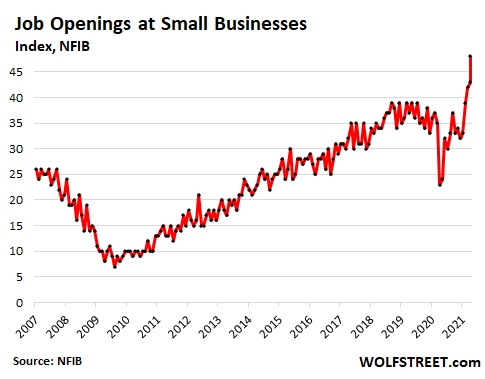 What does that mean in the bigger picture?
The gap between the 15 million people still receiving unemployment benefits under all programs and the difficulties companies have in filling their jobs is a sign of a messed up job market.
This already results in a mix: finally higher wages, and that's a good thing; and higher inflation as companies pass their higher labor costs on to consumers, whatever happens and you can get away with it, and that's not so good. It is the beginning of one of the mechanisms that set in motion an inflationary spiral that is not "transitory".
Have fun reading WOLF STREET and would you like to support it? Using ad blockers – I totally understand why – but want to support the site? You can donate. I appreciate it very much. Click on the beer and iced tea mug to learn how:

Would you like to be notified by email when WOLF STREET publishes a new article? Login here.

Drone shots of roofs with aluminum and steel shingles. Get a bird's eye view of the details of each installation.