When discussing our own garments and style essentials, Coveteur employees found that their feelings could often be summed up with the phrase, "It's literally the best… white t-shirt, jeans, drugstore, etc." So, in our new series, aptly titled Literally the best, we ask industry insiders to unveil the style essentials they keep turning to and just can't live without.
Gia Kuan is a well-known and respected name in the fashion industry. Running her own PR firm, she represents some of the coolest names in the business – Telfar, Luar, Kim Shui and more. Between personal and professional relationships, did we mention her husband works at Stüssy? – Kuan's knowledge of emerging and under-the-radar design talent is both immense and enviable.
Despite her professional skills, Kuan has yet to give up her youth aesthetically — a notion clear in the piles of pearls and clashing colors you'll find in all of her ensembles. Combine that with a nod to what she describes as her "'90s emo chrome hearts phase," and you have an utterly intriguing collection of everything from jade hoops to corset tees to Stüssy sweatpants . Below, she gives us a glimpse into her personal style and walks us through the essentials she absolutely swears by.
Get an idea of ​​your personal style. What outfits do you wear everyday?
"Honestly, my style is changing so much. One thing that probably defines my style a bit is that no matter how old I get, there's always a little bit of a teenager in me. I like things that are cute, that are a little funny. I now own my own business. In that sense, I feel like I've started dressing differently since then. Right now I'm probably channeling a kind of boss lady look where I'm a bit lazy and don't want to think too much about what to wear before I go out.
"I'm a giant ebay buyer. I buy a lot of second hand, a lot of vintage designers. I think my wardrobe is probably a mix of vintage designers and emerging independent designers. I also collect a lot of vintage designer two piece suits on eBay. Much old Jean Paul Gaultier, old Banana Republic or Ralph Lauren. I buy them oversized and lie in them all day with a hoodie underneath. Then I top it off with a hand embroidered necklace or bracelet that looks like it was made by a 5 year old. That's my style. I think I need something fun, cute and young to keep me going. I also wear accessories through my nails."
What do you look for when buying a new garment or accessory?
"I'm pretty aesthetically driven. I think sustainability is put into practice, but I have to say the number 1 in my opinion is comfort or practicality. I work a lot at home. I lie down a lot. I feel like everyone is living the same life right now. You're wearing something cute over it and you're actually wearing pajama bottoms that no one can see.
"I look at comfort, but I also look at color. I have this problem with buying something black for my wardrobe, which is funny because I feel like when I was in college, when I was going through this Rick Owens, dark moody phase, I had so many black clothes. Well, you can't find anything dark in my closet. I think I'm just a very dazzling person [right now]. There is a lot of emphasis on prints and textures in my closet, which I think is often something I look for, especially since I shop so much online. I think a lot of the differentiating factors in online shopping are that pop of color. (It's quite difficult to shop black online.) It makes me happy. I'm a very influenced person by weather and colour, so I think sometimes my mood determines what I wear that day and vice versa."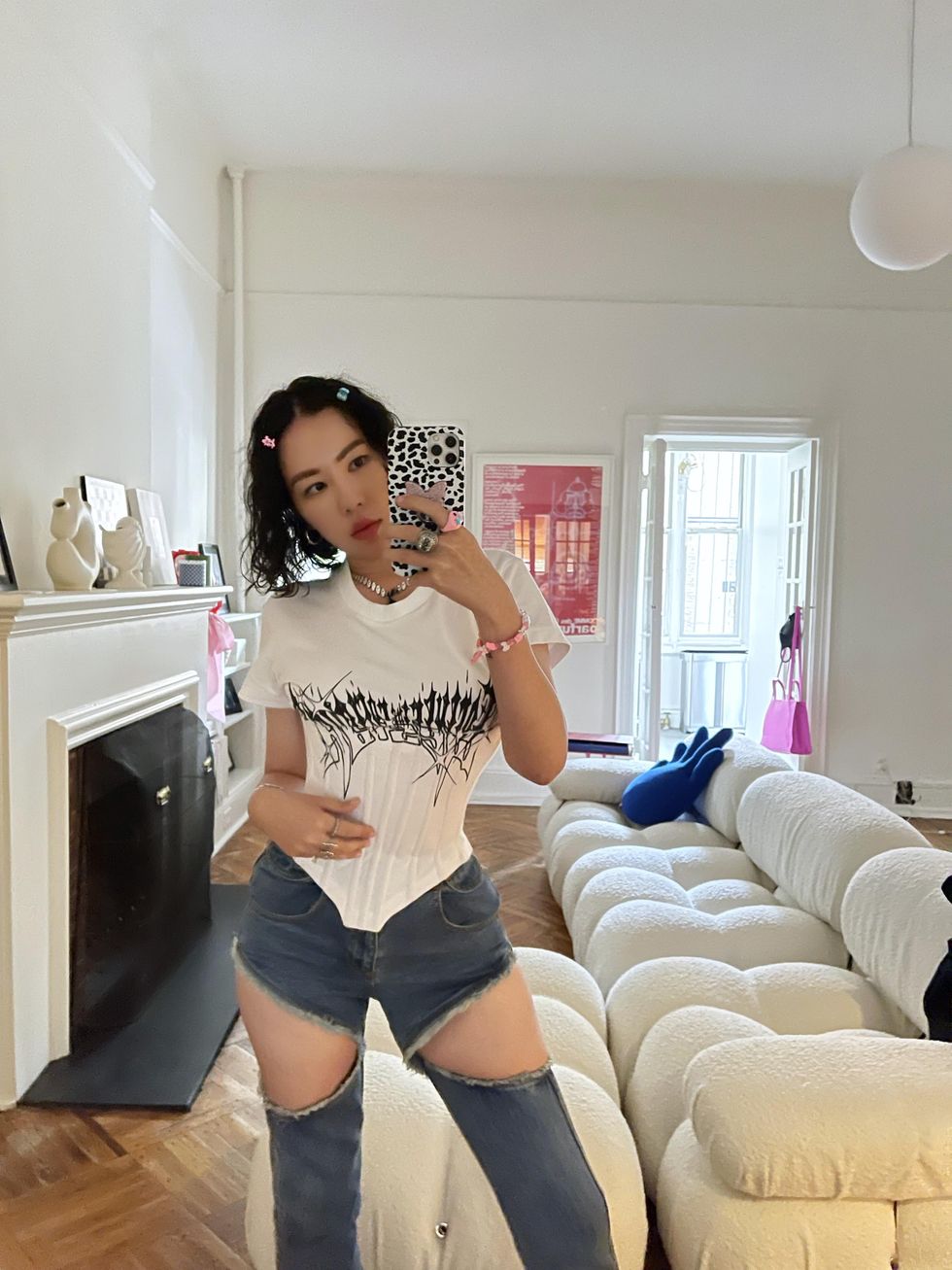 Shop Gia's must-haves:
"Weslah is a New York-based underground independent designer. He's super talented; everything he does is truly bespoke. He specializes in those crazy corset pieces. Many of them have been adapted for either entertainers or celebrities, but last summer he released t-shirts and hoodies that have the Weslah logo on the front but still have a bit of gothic grunge. Then they have super tight corseted waists. I love a twist on a basic thing. I honestly love this piece. I wear it with everything from sweatpants to dress pants to skirts. He is a genius."
Weslah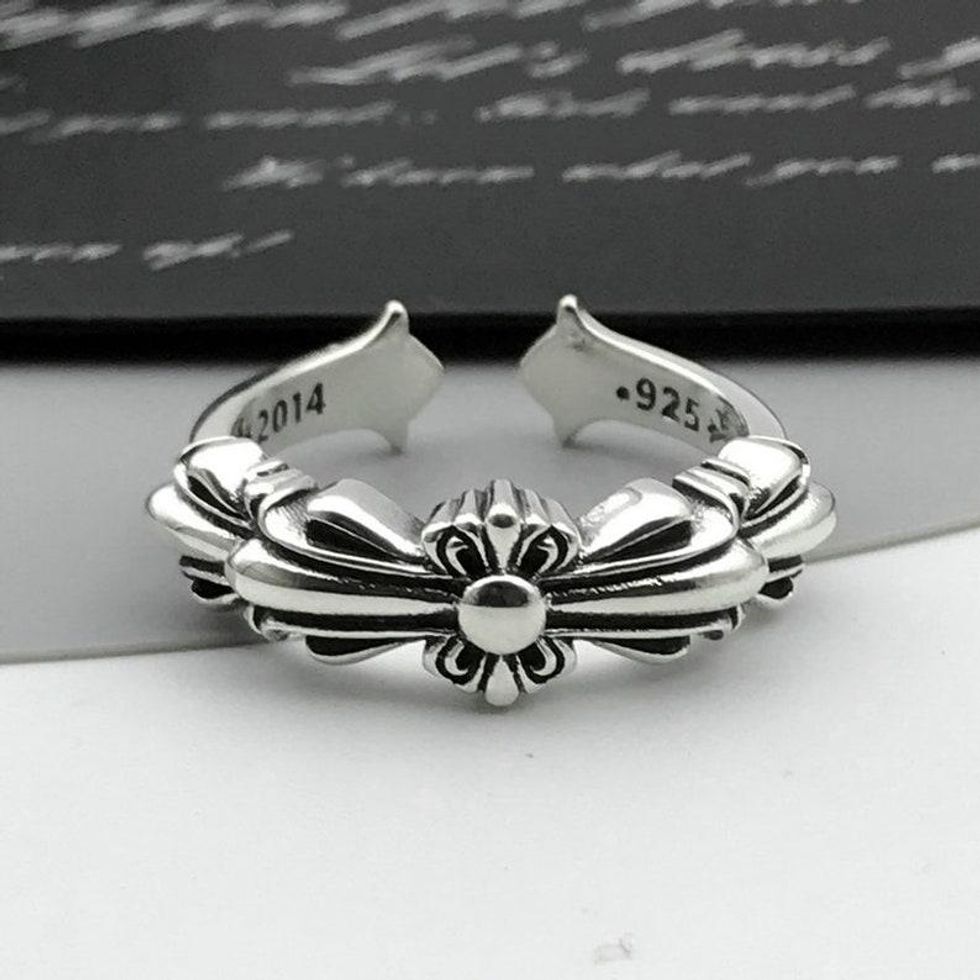 "I'm really into jewelry. It's honestly my main form of investment because I really never take it off, not even in the shower. I have a stack of rings that I always wear. One of them is a very thin Chrome Hearts ring with small diamond embellishments. It brings me back to my '90s emo Chrome Hearts phase, which I recently revisited."
Chrome Hearts
"I went to Dover Street Market and found Suzanne Kalan. She specializes in this type of spaghetti-looking diamond rings and bangles. Probably my most expensive investment, I bought an emerald cut ring with a rose gold finish. I stack it with my others and I love it because as you know I do my nails a lot. Honestly, my hands are probably the most beautified part of my entire body, so accessorizing them is especially important to me. I love glitter so all my rings have glitter or diamonds or something on them."
Suzanne Kalan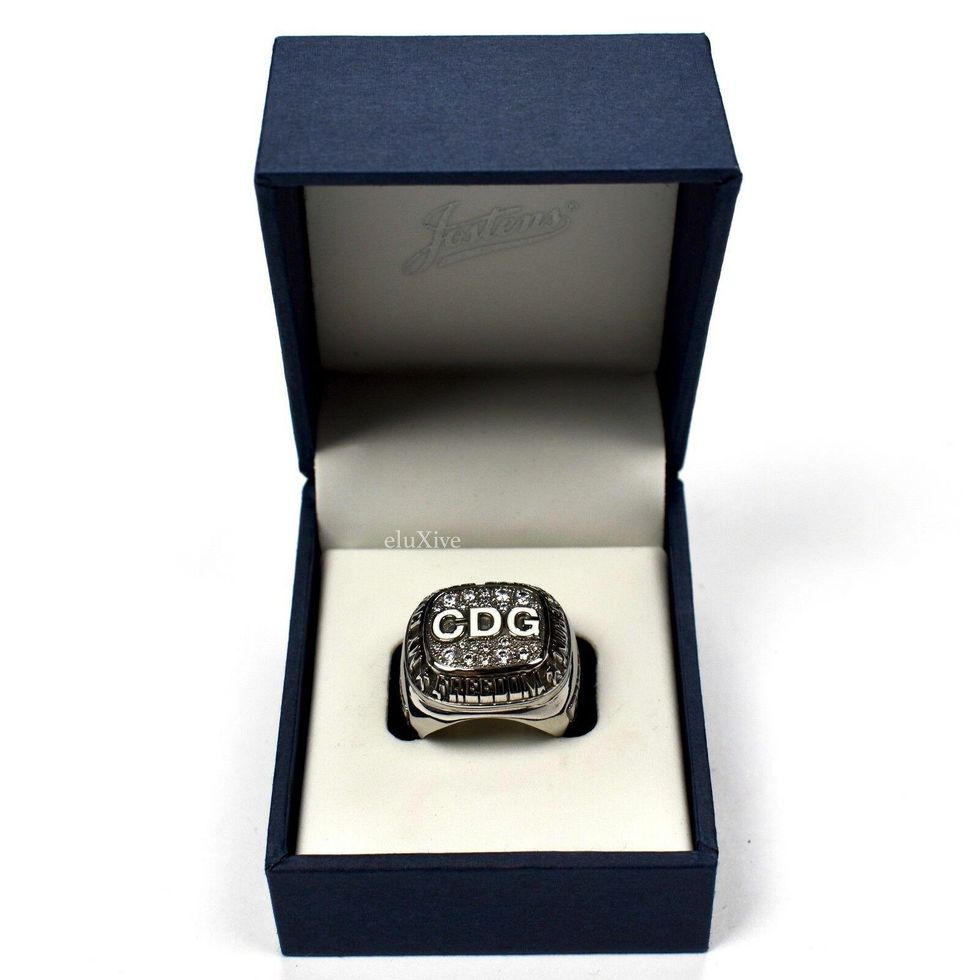 "On the other hand, I have this Comme des Garçons ring that I've been wearing since 2013, to be honest. I wear it for so long that when I take it off I realize my finger has a different shape underneath. It looks like the traditional schoolmaster ring but is made of sterling silver. It's awesome, super sturdy and I've had it for almost seven to eight years. It's definitely a staple that I never take off – just a part of my uniform now."
like boys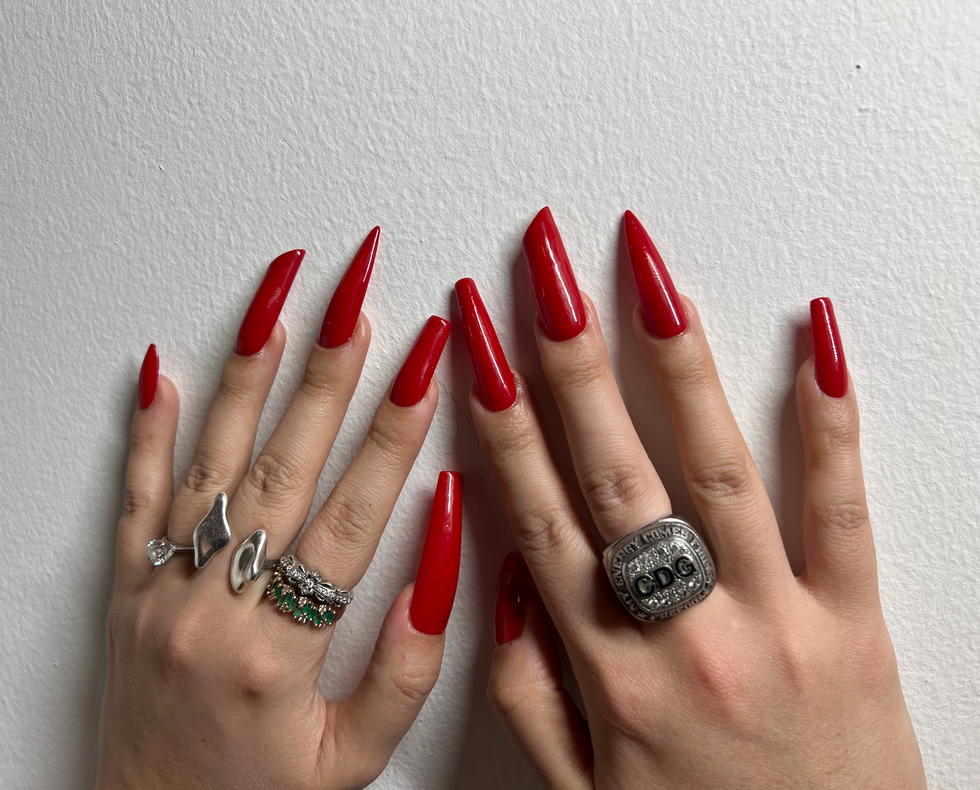 "I wear a lot of different hoop earrings. Sophie Buhai is one of my favorites in terms of simple hoops that are well made. I have many of their gold and silver hoop earrings but recently bought their jade colored hoop earrings which I wear often. They are nostalgic because in Chinese culture, jade is a type of stone that we use. I think she did that particularly well."
Sophie Buhai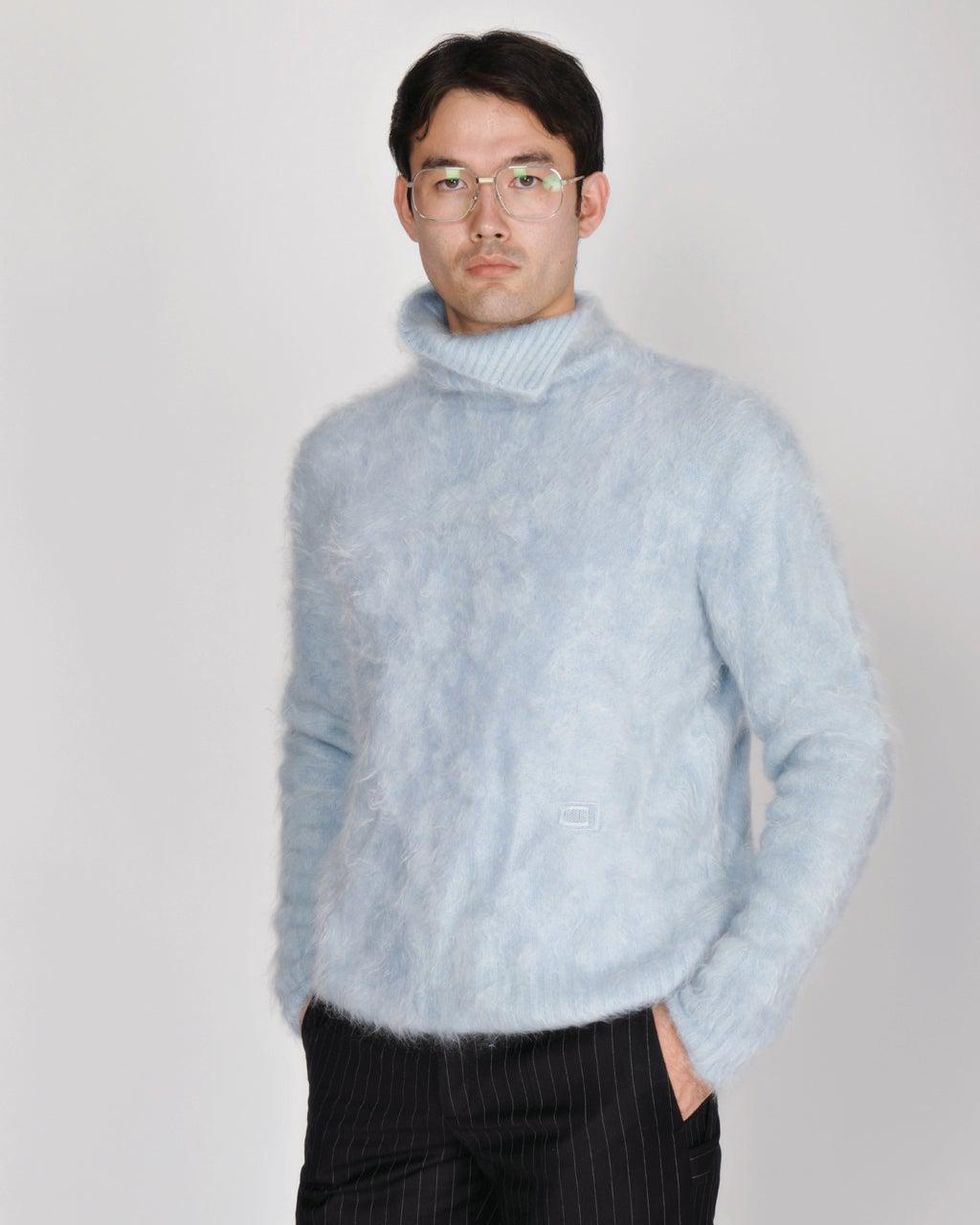 "I'm actually wearing this Commission sweater now. Honestly, this is the most beautiful piece of cashmere I own. It's baby blue with a loose turtleneck. I really respect what the guys from the commission are doing in terms of design and philosophy. I was lucky enough to get this sweater from them last year. I don't even have anything else in that color but I wear it all winter and it just feels incredibly luxurious."
Commission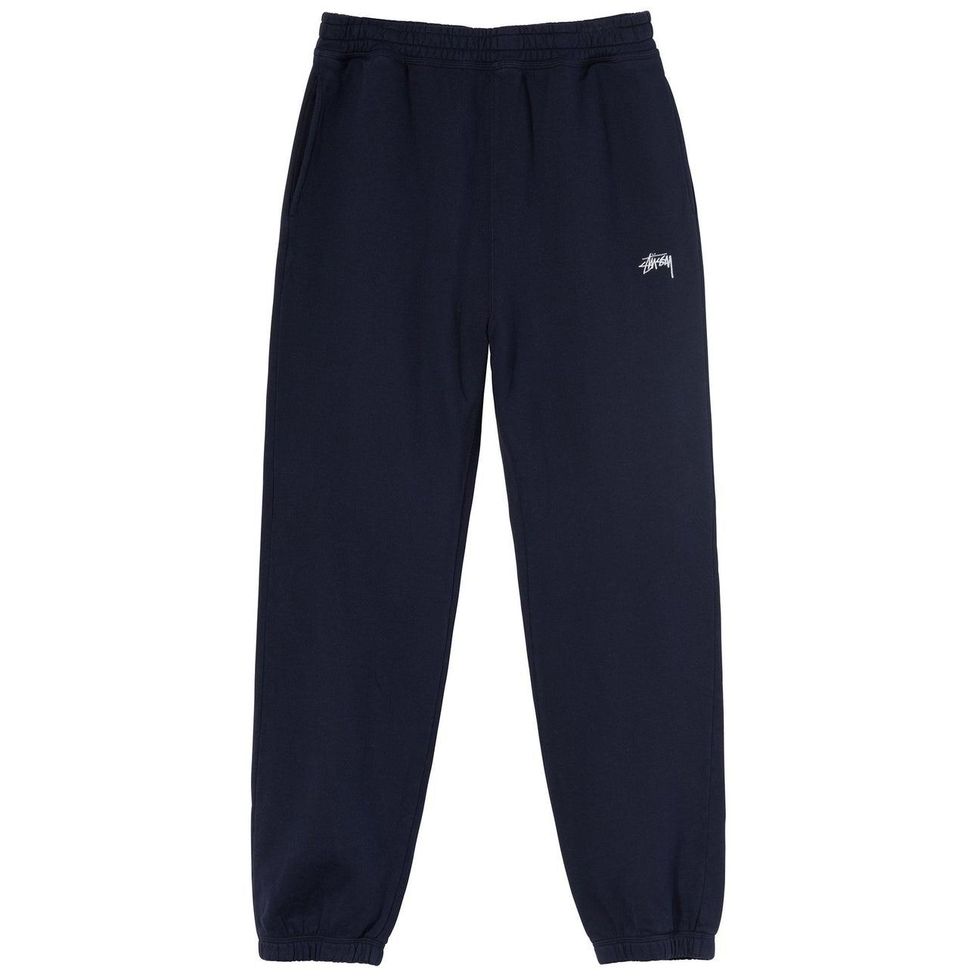 "I have a change of Stüssy jogging pants. My husband works at Stussy. We just have a lot of Stüssy. But honestly, her sweatpants are the most comfortable, and I share them with him too. I like a lot of oversized clothes, so we share half a wardrobe. They're just great basic jogging pants, but of course I have to have them in crazy colors and prints. I'm wearing them with my Commission cashmere jumper right now."
Stussy
"Kozaburo is a Japanese brand founded by Kozaburo Akasaka. He's a close friend of mine with an amazing Japanese brand. This is a very basic white hoodie I got from him over the winter. It's made from very organic cotton – very heavy so doesn't pill like a lot of my other hoodies. It almost feels a bit crunchy, but there's something about it that's kind of amazing. I live in hoodies. I also have it like an XL so again super oversized."
Kozaburo
"Oori Ott is an LA based brand owned by my friend Hannah Park who used to live in New York. She makes these amazing, very simple versions of jersey loungewear. There's this couple Joggers in black jersey that I got from her – I've had them for about four years and they really are the most comfortable things. It's a lightweight jersey material but there's a high slit at the very top of your thigh so they flow around either side as you walk, which is great in the summer. Then in winter I just put stockings or leggings underneath and it still works. I wear them inside and outside. They're black, and I've rarely found anything black that lasts that long." (Similar option linked here).
Oori Ott