[Warning: This story contains spoilers for Mare of Easttown Episode 6, "Sore Must Be the Storm."]
The penultimate episode of Mare from Easttown can best be summed up as an hour of breakthroughs and breakdowns. It's an episode that Mare sees (Kate Winslet) finally reach their breaking point as the emotions of the fall let unresolved grief rise to the surface. At the same time, there are monumental breakthroughs in the murder investigation that promise an exciting and thrilling finale.
Colins (Evan Peters) Death weighs heavily on Mare, who is reassigned to the Easttown Police Department. After all, she was the one who led him to the kidnapper's house even though he was suspended. Mare tries to get it right (and rid herself of guilt) by visiting Colin's mom and telling her how great her son's detective was. All Mare gets for her troubles is a slap in the face and a lot of guilt for Colin's death. With that, Mare returns home and finally gasps. Her normally steely demeanor collapses as she cries in her mother's (Jean Smart) Arms (a scene that is repeated later in the episode of Mare and her own daughter).
While Colin's mother may hate Mare's guts, Easttown is a different story. Aside from tragedy, there is a triumph: the missing girls were brought back home, and it was Mare's persistent determination that resulted in their being found. Everyone is grateful, especially Dawn (Enid Graham), who hugs and thanks Mare for bringing Katie home. Even Brianna's (Mackenzie Lansing) father apologizes for being a bit of an idiot. Mare is a hometown hero again. But connected with that is the expectation that Mare has to contend with.
"I have to pull myself together," she says to Richard (Guy Pearce) when he comes to the house with a thoughtfully arranged gift basket with cold beer and hoagies. Mare can't do the relationship thing right now, and Richard understands; He can wait for it whenever Mare is ready. But with Colin's death and the Erin (Cailee Spaeny) murder case still hanging over her head, she's not in the right headspace for warm nights of flirting and cheesesteaks.
Instead, this time Mare is voluntarily returning to therapy, which in itself is progress. She admits she couldn't cope with the pressure. "I can feel it happen again," she says. "Like panic, expectation from people to be something I'm not good enough for." Her therapist Gayle (Eisa Davis) sees this as a more ingrained problem related to Mare's failure to properly grieve the death of her son Kevin (Cody Kostro). "You've been hiding behind other people's grief," she says, "Katie first, Erin now, but even after these cases the grief will still be there and wait for you to face it."
Mare takes this insight on board, opens up and guides her therapist through the day Kevin died about how she told her daughter Siobhan (Angourie rice) Go home and check on him after a neighbor caught him sneaking into the house. Siobhan was the one who saw him hanging from the rafters in the attic. It's a trauma the family has never really dealt with because Mare refuses to talk about it. She locked herself out, just as she turned off the attic, and refused to ever return to that dark place.
Ignoring the problem only made matters worse, especially for Siobhan, who bears the burden of finding her brother's body. She has this persistent fear of losing a loved one; This is why she is so reluctant to go to college and freaks out when her new friend stops replying to her texts. It's possessive behavior, but also somewhat understandable given Siobhan's past. If there is a chance she might lose someone close to her, she gets out of control, gets drunk and yells at her mom that she should have found Kevin, not her.
Heartbreaking as the moment is, letting out those emotions is probably cathartic for Mare and Siobhan as it speeds up the grieving process. But before the family can be rebuilt, the Erin case remains to be resolved, and the parts are beginning to unite. It begins when Mare Beth's (Chinasa Ogbuagu) brother Freddie (Dominique Johnson) finds dead from an overdose (continuation of the opioid addiction theme in the series). But there is something Mare finds in Freddie's house that matters, a garbage bag full of Erin's old clothes with a shirt that says "Lake Harmony Family Reunion".
Kenny (Patrick Murney) reveals that he had Freddie take some things from Erin to give to his own daughter, since Freddie didn't have the money to buy her a birthday present. But Mare is more interested in the reunion with Lake Harmony because the date it took place coincides with the date written on Erin's heart chain. She wants to know if anything suspicious happened this weekend. Kenny can't remember anything out of the ordinary, but he confirms that he and Erin stayed in a cabin with cousin Billy (Robbie Tann).
As is now the standard on this show, there is no time wasted following as it quickly becomes apparent that Billy was somehow implicated in the murder. After John (Joe Tippett) was kicked out of the family home because of his affair, he moved back in with his increasingly aggressive brother Billy and father Pat (Gordon Clapp). A little worried Pat has been since the night of the murder, and he eventually tells John that Billy came home in the early hours of the morning covered in blood and shoved clothes into the laundry. Pat believes Billy killed Erin, and John later lets his brother confess.
Amid it all, there's some confusion with Dylan (Jack Mulhern), who is called back for questioning after Brianna reveals he wasn't home the night of the murder. Dylan demands a lawyer as he becomes the prime suspect in the investigation. This annoys him so much that he hunts down Jess (Ruby Cruz), who he believes told the police he burned Erin's diaries. "Don't open your damn mouth again or your face will be blown away, just like Erin," he threatens as he points a gun at her head.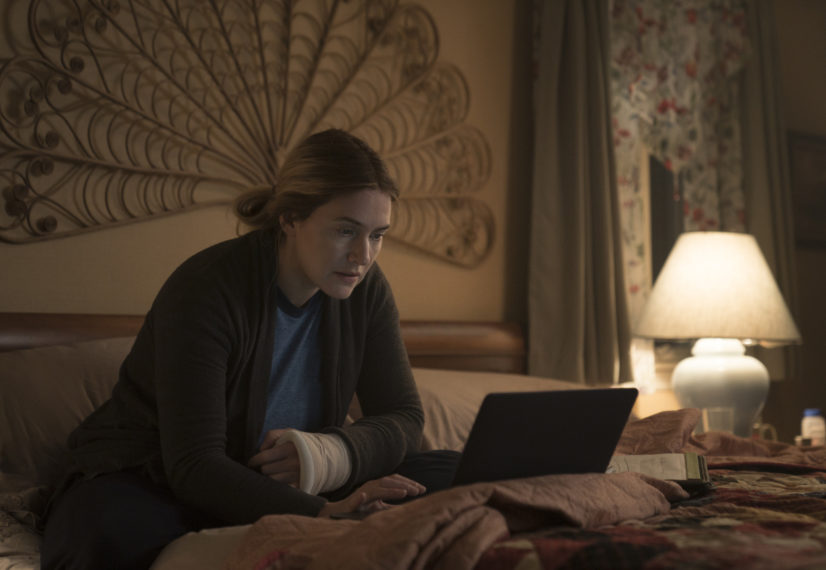 Meanwhile, Mare tracks down Erin's heart chain at a local jeweler and confirms that it was bought under the name "Ross" (Billy's last name). With this information she visits Lori (Julianne Nicholson) who gratefully ignores John's request to keep Billy's revelation to himself and tells Mare what her husband told her. She tells that Billy confessed to the murder and is the father of Erin's baby and that the couple started a "relationship" at the Lake Harmony meeting. When Erin threatened to go public, Billy panicked and killed her to cover up his incestuous relationship with his underage cousin.
When we finish the episode in which Mare tracks down Billy, whom John brought to the lake for a final fishing trip (armed with a gun in the tackle box), all fingers point in one direction. Or is it? Because a cliffhanger suggests a different turn in the story. Jess arrives at the police station and shares a photo with the boss that she took from Erin's diary. We don't see what is in the picture, but I have a solid theory. I would put good money into this photo showing Erin and John "together" and that it was John who had the relationship with Erin and killed her (or had Billy help him kill her).
Let's look at the evidence and clues. We know John kept a secret from Lori, which she thinks is a matter. However, at the beginning of this episode, Lori tells Mare that she could feel it the last time John cheated on her. This time she felt nothing. Is that because the secret isn't a business, it's a murder? Second, John was also at the Lake Harmony meeting and the necklace was bought under "Ross", which is also his last name. Also, the scene where John makes Billy confess is strange. "You have to say out loud that you killed her," he says, which almost sounds like he's training Billy to survive the fall.
Whatever happens, Mare of Easttown was a thoroughly entertaining crime thriller that kept us guessing while at the same time building a city with well-executed and compelling characters. Let's hope it can hold the landing.
Mare from Easttown, Sundays, 10 / 9c, HBO